Performance Friction 319.044.63 Direct Drive V3 Two-piece floating brake disc Mitsubishi Lancer Evo IV, V, VI, VII, VIII, IX 4G63T 319 mm (front left)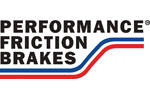 Easy return of products within

14

days
Free delivery from

113,12 EUR
This product is not available in a stationary store
For: Mitsubishi Lancer Evo IV, V, VI, VII, VIII, IX with 4G63T engines
PFC has released new V3 disc and hat technology. The advanced design features a patented attachment design that uses a retention ring that holds the hat and disc together.
The ring means no need for torque wrenches, and no hassle. The ability to change a disc quickly and efficiently saves time and effort. As well as being convenient, the new V3 technology is much lighter than previous designs, making it easier to put on and pull off, and making the vehicle lighter.
This V3 disc retention method is based on the use of a two-turn retaining ring, which is held in a groove in the hat that overlaps the disc flanges – effectively locking the disc to the hat.
Two-Piece Floating Direct Drive Street Upgrade Disc Technology
Ever since the disc brake was invented vibration and pulsation caused by thermal expansion (warped discs) has been a major issue. Until Now… With Performance Friction's two-piece floating Direct Drive and Direct Drive 'V2' disc assemblies, the disc flange floats in the bobbin structure, allowing radial and axial expansion of the disc without being constrained by the hub or hat.
Direct Drive uses a saddle bobbin as part of the mounting

system.

Direct Drive V2 is an integral drive in hat system and is a second generation disc mounting system designed to enhance the Z-Rated Big Brake kits by reducing the number of components and overall disc assembly weight.
Direct Drive V3 is the very latest generation mounting system that uses a spiral locking ring that connects the disc to the hat - allowing much faster fitting without the need for tools or fixings, and producing even less overall weight.
PFC Brakes outperform the competition by more efficiently distributing heat for lower lap times, longer life and improved driver control.
Features:
High Carbon Alloy with copper and molybdenum for high temperature strength and durability.
Vanes turned OD and ID for balance to reduce thermal warping and vibration.
Run-out less than .001 inches, reducing pulsation and vibration.
Thickness variation less than .0003 inches reduces vibration.
47 or more vanes for superior thermal capacity.
Aircraft quality heat-treated for microstructure alignment and durability.
Surface finishes less than .7 microns.
100% measured and inspected to meet tolerance specifications.